Nando Penteado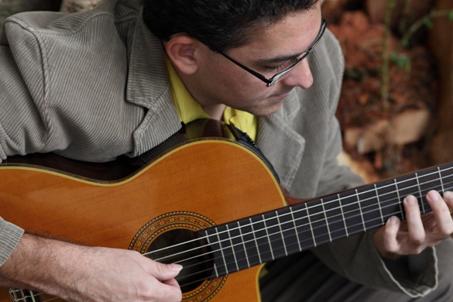 Nando Penteado is a Brazilian musician. He received a degree in Popular Music from UNICAMP (University of Campinas) and is currently engaged in the Music masters program at UNICAMP with a focus on the interface between music and technology. He has being working as a musical teacher and performing shows for more than 35 years.
Nando Penteado is a multi-instrumentalist, playing and teaching people how to play several instruments including the electric and acoustic guitar, bass, ukelele, piano, and keyboards. Still, he best expresses his musical talent with the acoustic guitar.
His guitar style is very rhythmical and percussive, with a clear samba heritage in each performance. Nando has developed a technique of harmonizing song melodies and improvising solos, even when playing solo!
As a composer and arranger, the musician uses his knowledge to create a very elaborate and refined sound, without loosing beauty and simplicity, a trademark of his work.
During his shows, Nando Penteado interacts with the audience, telling stories about the songs and its composers, both informally and poetically.
The repertoire consists of the best of brazilian popular music, including bossa-nova and sambas composed by great brazilian musicians like Tom Jobim, Egberto Gismonti, Ary Barroso, João Bosco, Caymmi, and some songs of his own.